Kent Wedding & General Photographer
Projects, events, news and information
To the memory of Posh Paws, my truest friend. RIP Posh Paws. I will always love and miss you. xxxx
Summer has been and seems to have nearly gone. We haven't (so far) had the heat which we did last year. However, there is still a few more weeks to go, until the cold weather is back with us.
This year will be remembered for only one thing: the Coronavirus. It has brought the economy, as well as people's lives, to a complete halt. I am desperately troubled for the future of the many photographers, as well as their potential clients who were supposed to have been married this year. These are desperate and troubling times, and I sincerely hope you are able to survive this time and emerge stronger, and ready to face the future.
From my perspective, it has been extremely frustrating, making it difficult to go out and take photographs, and also having events/weddings/photo shoots cancelled. I have also had to postpone my project of visiting all the churches in Kent. I am optimistic I will be able to continue again soon, and visit and image for you these beautiful places.
My thoughts are with you all, but especially all those who had to cancel weddings/ceremonies/events. Let us hope things will begin to return to some degree of normality - very soon.
Be safe, everyone; stay well, and do not panic. This country has survived much worse, and we will continue to grow and provide a future.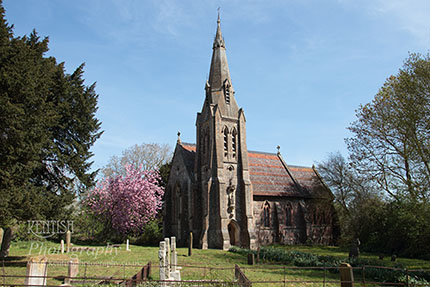 Kingsdown Church, Kent
I have now visited 276 out of 539 churches in Kent. I'm having to travel further afield, as I have visited everywhere within about an hour's travelling distance from where I live. However, with the current situation, I have had to put a complete halt to my project. It is such a pity, as the weather has improved, and the beauty of Spring is upon us.
I go out infrequently, staying away from main roads and people, as much as I can. I have managed a few photographs, but I am suspending my usual activities, until the crisis is over, or at least "sent packing". I feel for all the freelancers out there; things are difficult enough at the best of times, but to lose your livelihood due to a hidden enemy is frustrating and devastating.
It is tempting to visit more places, especially with the roads being virtually empty. However, I am resisting the temptation; it is essential. I am deeply concerned, though, that when this ends, so many things are not going to be the same as they were. Perhaps we will learn valuable lessons. One can only hope so, but this certainly ought to be a "wake up call".
Remember: if you want your wedding or ceremony photographed, you may book me up to 2 years in advance. I am still taking bookings. Please see my contact page.
Wishing you well for the coming months, and on into the rest of 2020.
I'll keep you updated, if and when I travel and take more high-quality images - because our images matter.